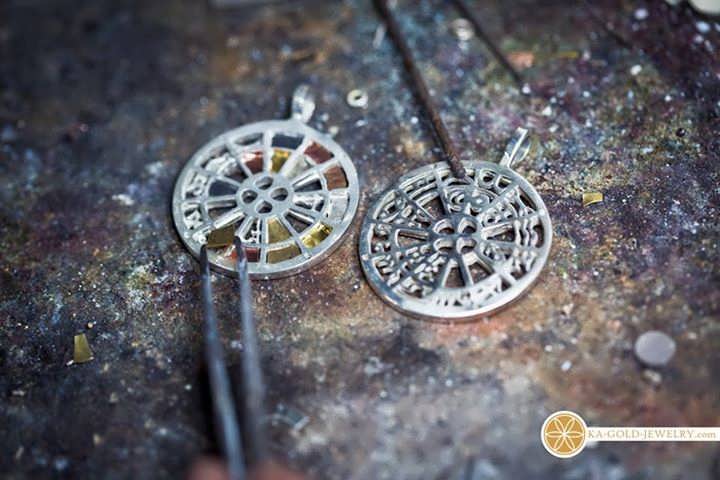 Making preparations for the new edition of
"The Planetary Exaltation Talisman"
, which will be made on March 26th.
http://www.ka-gold-jewelry.com/p-products/star-of-magi.php
In this pendant, each planet lies within the sign of the zodiac, according to ancient doctrine, to be in its exaltation. The term
"exaltation"
is part of an ancient astrological concept that Is mostly known today as
"essential dignities"
which classifies the essential qualitative strengths of the planets in accordance to their place in the signs of the zodiac. This enables the measurement of the power of each planet in each Zodiac sign. Each planet has a zodiac sign that it works well with (the zodiac sign that is the planets domicile), a zodiac sign within which the planet is more weak (opposite the zodiac the planets domicile), a zodiac sign where the planet has exceptional power – this is its exaltation! and the zodiac sign that the planet is said to be falling or its weakest place (opposite the exaltation sign).
Metal, star signs and zodiac relationships:
In ancient times, people were familiar with seven main stars – The sun, the moon, Mercury, Venus, Mars, Jupiter and Saturn. Each star and sign of the Zodiac was represented by a specific metal:

Sun + Leo = Gold
Moon + Cancer = Silver
Mercury + Gemini + Virgo = Mercury/Zinc
Venus + Taurus + Libra = Copper
Mars + Aries + Scorpio = Iron
Jupiter + Sagittarius + Pisces = Tin
Saturn + Capricorn + Aquarius = Lead