Cosmic jewelry designer releases "I Love Therefore I Am" ring, a paraphrase of philosopher Descartes quote "I think therefore I am"
Releases at: 06/09/2009
A renowned cosmic jewelry designer, through his Ka Gold Jewelry website, has released a unique ring that aims to bring endless love and compassion to one's life. Dubbed "I Love Therefore I Am," this new David Weitzman-designed ring follows the popular quote of philosopher Descartes "I Think Therefore I Am."
(Givataim, Israel, September 3, 2009) – Renowned cosmic jewelry designer David Weitzman, through his Ka Gold Jewelry website (www.Ka-Gold-Jewelry.com), has released one of his newest creations. Dubbed the
"I Love Therefore I Am
" ring or in Latin "
Diligo ergo sum
," which is a paraphrase of the popular Descartes quote
"I Think Therefore I Am
" (
Cogito ergo sum
), the unique and symbolic ring aims to bring eternal love and compassion to one's life.
"
While Descartes was trying to logically prove his existence through his statement, what I aim to do is sum up the very essence of creation. Through this ring, I aim to characterize the human experience. The 'Diligo ergo sum' ring will remind the wearer to love and to accept love
," Weitzman emphasized.
"
After all, the search for love is not only characteristic but the very essence of our being,
" he added.
Weitzman, known for his passion for sacred knowledge, positive change, spiritual symbols, strength, healing and various talismans, believes that the entire universe, its essence, its creation as well as other aspects surrounding it can be too broad, too diverse to understand.
"Human thinking may not fathom it that easily. Logic can sometimes complicate things. However, things become easier to understand, to value when we characterize the human experience – when we incorporate love and compassion," the cosmic jewelry designer said.
The "
Diligo ergo sum
" ring comes in two widths. Weitzman also said that there are three rings available at the Ka-Gold-Jewelry.com website.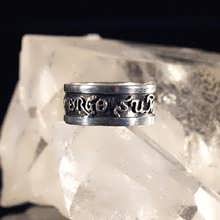 Ka Gold Jewelry also offers free EMS shipping for orders above $150.00.
Apart from the "I Love Therefore I Am" ring, Ka Gold Jewelry also offers other new creations including the M51 Galaxy ring, which aims to create a sense of wonder in life facing the huge cosmos, as well as the Japanese crane ring, which aims to bring beauty and peace to the wearer. The crane and cherry blossoms are two Japanese symbols that represent beauty, loyalty, longevity and peace.
Weitzman, who describes himself as a man with a passion for helping people, gained worldwide recognition following his first design released in 1998, the Merkaba pendant which serves as a symbol of healing and protection. A self-described truth seeker, Weitzman has studied the fields of Judaism, Buddhism, Kabbalah, ancient wisdom and eastern spirituality.
For more information about Ka Gold Jewelry designed by David Weitzman, visit their site at www.ka-gold-jewelry.com or send email to
[email protected]
David Weitzman may also be reached via phone numbers 972-54-2401327, 972-3-5733401
###
About Ka Gold Jewelry
Ka Gold Jewelry by David Weitzman is a jewelry website that mixes sacred science, art, and spirit to create designs that reveal the truth about people's identity and the true nature of reality. Behind these sacred symbols for healing, self-balance and unity is the knowledge that enables people to take complete control over their lives so they can rid themselves of chaos, fear, and hatred that affect so many people.
For authentic sacred jewelry and talismans, Ka Gold Jewelry is the perfect one stop shop! For more information, visit www.ka-gold-jewelry.com or send email to
[email protected]
David Weitzman may also be reached via phone numbers 972-54-2401327, 972-3-5733401
Back to Release list