Ka Gold Jewelry reiterates call for environmental sustainability, responsibility; launches "Mother Earth campaign" to benefit orgs
Releases at: 25/03/2009
Ka Gold Jewelry, a website that offers unique jewelries which mix sacred science, art, and spirit, has launched a benefit project dubbed "Mother Earth Campaign" where all proceeds of the special Mother Earth pendant will go to various "green organizations" or groups that advocate environmental sustainability and responsibility.
(Givataim, Israel, March 24, 2009) – Ka Gold Jewelry, which can be found at
www.Ka-Gold-Jewelry.com
, has launched a special project dubbed "
Mother Earth Campaign
" wherein all of the sales profits or proceeds of its special Mother Earth pendant will be donated to various organizations that support environmental sustainability, responsibility and ecological balance.
The Mother Earth pendant, wherein under it hangs the command in Hebrew "change it," is made to increase the wearer's sense of responsibility on ecology matters. The people around the wearer of the pendant will also be encouraged to value the environment – a move that is very crucial these days, according to Ka Gold Jewelry designer David Weitzman.
"
This eco jewelry Mother Earth design
was created to strengthen the tie between human beings and the Earth. Many of our natural resources are now being put at great risk. We see rapid climatic changes these days and our Earth's resources are being destroyed by the minute. Hence, there's a need for us to work together and awaken each other's appreciation for nature and change," he emphasized.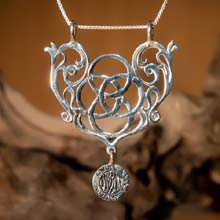 Weitzman, who describes himself as a man with a passion for helping people, gained worldwide recognition following his first design released in 1998, the Merkaba pendant which serves as a symbol of healing and protection. A self-described truth seeker, Weitzman has studied the fields of Judaism, Buddhism, Kabbalah, ancient wisdom and eastern spirituality.
In fact, Weitzman's passion for sacred knowledge, positive change, spiritual symbols, strength and healing is the very same thing that prompted him to design the Mother Earth pendant.
Weitzman also said that it was crucial that all proceeds from the sale of the Mother Earth pendant be donated to "green organizations."
"I believe that I am achieving a number of goals. First, the jewelry is a constant reminder to whoever wears it that he or she has the ability to influence the future of planet Earth. Second, help to collect the much-needed financial help to implement the desired changes," he explained.
As of recent, two environmental organizations have received donations from Ka Gold Jewelry namely www.EcoEarth.info and www.Nature.org (donation sent via www.NetworkForGood.org)
For more information on the Eco Jewelry – Mother Earth campaign as well as details on the pendant, visit http://www.ka-gold-jewelry.com/eco-jewelry.php
Meanwhile, for more information about Ka Gold Jewelry designed by David Weitzman, visit their site at www.ka-gold-jewelry.com or send email to
[email protected]
David Weitzman may also be reached via phone numbers 972-54-2401327, 972-3-5733401
###
About Ka Gold Jewelry
Ka Gold Jewelry by David Weitzman is a jewelry website that mixes sacred science, art, and spirit to create designs that reveal the truth about people's identity and the true nature of reality. Behind these sacred symbols is the knowledge that enables people to take complete control over their lives so they can rid themselves of chaos, fear, and hatred that affect so many people.
Ka Gold Jewelry is where sacred science, art, and spirit meet. Unlock your subconscious today! For more information, visit www.ka-gold-jewelry.com or send email to
[email protected]
David Weitzman may also be reached via phone numbers 972-54-2401327, 972-3-5733401
Back to Release list