Ka Gold Jewelry
Authentic Sacred Jewelry and Talismans
Sacred Symbols for Healing, Self-Balance, and Unity
Masterfully Crafted from the Heart of an Artist
| | |
| --- | --- |
| | My name is David Weitzman, and I'm a cosmic jewelry artist. My biggest inspiration in designing sacred and symbolic jewelry comes in knowing I can impact people's lives. My work harnesses the power of spiritual symbols and sacred geometry from around the world to bring those wearing my sacred jewelry happiness, vitality, excitement, and love. My jewels are meticulously crafted to work on conscious and subconscious levels to inspire people's lives. |
David is Currently Working on:
Final touches for a gold Sun in Leo Talisman

One of the last two remaining pieces !Limited edition! Assembled on the 17th of August 2014 between 5:47-6:35 +3 GMT. Inlaid with Ruby. This Talisman is very well documented in many traditional texts, mainly for its great healing powers, but also for its ability to amplify personal strength and self esteem, invoking great success and achievements. "...Renders him that wears it to be renowned, amiable, acceptable, potent in all his works, and equals a man to kings, and princes, elevating him to high fortunes, allowing him to do whatsoever he pleaseth..." Cornelius Agrippa- Three Books of Occult Philosophy
Timeless Gifts from the Heart
Our jewels make for a perfect and loving gift to show someone

how much you care

. The enduring sacred symbols will be treasured for years. By choosing symbols with meaning to your loved ones, you'll be giving a

thoughtful

, inspiring gift of hope, love, and well-being.





Browse by Jewelry Type
David's Customers Club
Special Offers & New Design Updates
Enjoy the Chance to Win Gold item GiveAway Every Two Months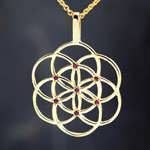 June 1st 2015 -
Seed of Life Pendant Gold With Gemstones
Jewelry for Healing and Strength
Many grateful comments from happy customers illustrate how wearing these talismans and jewels fill people with hope, strength, and courage. These sacred symbols have a positive impact by helping people to see the world from a different, and brighter, perspective. With designs available in both silver and gold options, these symbols can fit into any budget and brighten the life of any buyer.
"I got your package today! I instantly felt inner strength. I suffer from a terminal illness, and these shapes are so comforting."
Anonymous Satisfied Customer
Browse by Jewelry Purpose
Special Energizing Process
Each jewel prototype goes through a special energizing process consisting of a special meditation to invoke inner contentment and self-realization. Each individual jewel is hand-crafted and hand-finished to facilitate healing, balance, and self-discovery while inspiring the wearer's journey towards the totality and unity of their whole self..
"Your work has brought so much happiness to me and my friends. You and your team are remarkably talented and open a door for spiritually.
May this be a truly Blessed holiday season for you,"
James Christiana
Read great Testimonials from our customers
Sacred Knowledge - Articles

Enneagram, Flower of life, Tree of life, Seed of life, Age of Aquarius, Personal creation, Lotus flower, Merkaba, Merkaba meditation, ka, Dune, Vesica Pisces, God's Word, Mobius Ring, Golden Spiral, Gordian Knot, Christ Consciousness, Star of David, Talismans meaning, Hamsa, The Kabbalah, Nautilus shell, I ching, Sacred Geometry, Crop Circles, Tetractys, Odin's Knot, Healing jewelry, Chaldean Astrology, Runes Jewelry, The Four Elements, Meaningful jewelry gifts, Zodiac Jewelry, The lost symbol, Origin of Buddhist Jewelry, Inspired Jewelry, Yin Yang Jewelry, The Ouroboros, Eye of Horus, Egyptian Symbols and Their Meanings, Jupiter Exaltation Talismans