Runes Jewelry
Magic and Mystery in ancient Europe
Since the beginning of time, man has always strived to control his prophetic vision and transcendental vision that give him the ability to analyze the condition of his life and to make the right decisions for his future.
Throughout history, this desire has led human cultures to develop many ways of achieving this goal. In the Bible, the High Priest used the Urim and Thummim. Amongst the Chinese we find the I-Ching and in other cultures, the analysis of celestial bodies and their meanings (astrology) is used. In ancient Europe, we find the Runes, an alphabet consisting of three, eight letter series.
Runic alphabet
The origins of the Runic alphabet are hidden in the mists of time and was used by ancient Germanic tribes and nomads. The early Runic style is known as Futhark following the phonetic spelling of the first six letters in the Runic alphabet of which the oldest known example is found around 150 CE.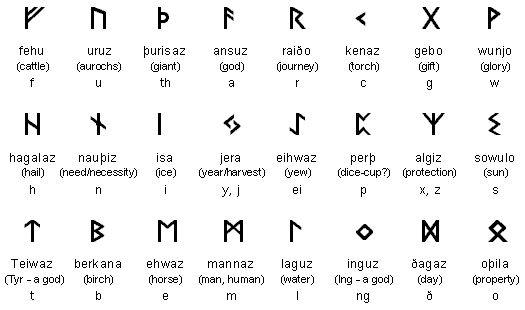 Beginning with the spread of Christianity in the 12th century CE, the Runic alphabet was gradually replaced by the Latin one. However, the Runes continued to be used to foresee the future and were credited with magical powers.
Runes meaning
The meaning of the word "rune" is "secret" or "whisper". In Nordic mythology, the runes were accorded great magical powers and their use was known only to an elite few.
In ancient Nordic poems, the runes are seen as a means for healing, prediction and soothsaying and as a means of receiving information from the world beyond. The poems tell of Odin who wanted to get transcendental knowledge and who hung himself upside down from the "Tree of the World", the "Yggdrasil". After nine days and nights the runes were revealed to him and he absorbed their powers.
The use of Runes, because of the magical and mystical powers attributed to them, has made them a popular symbol in jewelry. Today, the ancient Scandinavian Elder Futhark is widely used as a means of prediction.
David's Rune Jewelry (pendant, ring and bracelet)
The idea behind the ring, the pendant or the bracelet, is that you choose the symbol that is closest to your needs and desires. This symbol is then incorporated into the jewelry. The symbol empowers those elements or strengths that you seek in life.
One of the things that brought me to create these pieces of jewelry is the strong bond with nature. The letters and symbols are directly related to the powers of nature that those ancient individuals lived by.
The style which I used to design the jewelry reflects that same vision and perception from which the original symbols and traditions developed - precision and authenticity, so that each of you will feel that the jewelry was created by an ancient Nordic goldsmith.