About Ka Gold Jewelry and David Weitzman
Ka Gold Jewelry website was founded in 2005 by the Artist David Weitzman and internet entrepreneur Yaron Shaool. Ka Gold Jewelry has served over the years tens of thousands of customers, with great care and love. We have always strived for "
100% happy customers
". It is our Motto and we carefully manage our service with this Motto in mind.
| | | |
| --- | --- | --- |
| | | |
| David Weitzman | | Yaron Shaool |
David Weitzman
David Weitzman was born in Israel. He is the force behind Ka Gold Jewelry. David has dedicated himself for many years to the search for sacred knowledge. He has vast knowledge in the fields of Kabbalah, sacred geometry, Egyptian wisdom, Jewish tradition, Tibetan Buddhism and other sacred concepts.
In 1998, David began making the Merkaba Pendant. The flood of responses from people telling him of the enormous changes in their lives, encouraged him to continue creating and distributing these symbols all over the world.
The story behind David's jewels - The Forgotten Knowledge
13,000 years ago, a cataclysmic event changed the world, causing our human race to forget all prior knowledge. We then had to re-learn all the basics, even how to make fire! There was one sect who survived this event and managed to preserve the knowledge. The members of this sect then dispersed throughout the world so that "
from the womb of time, wisdom shall rise again in her children
".
These survivors established the Egyptian, South American and Tibetan cultures. The knowledge was concealed in sacred symbols that became the foundations of the major religions and mystical studies around the world. All these beliefs share one truth.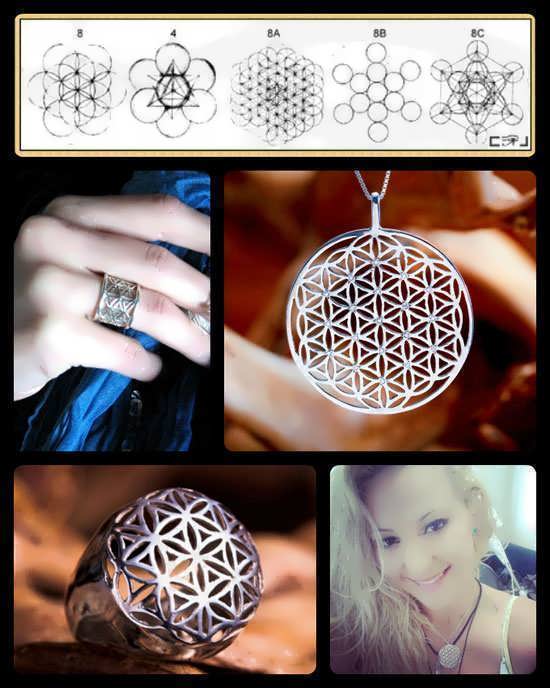 Sacred Symbols jewelry
The symbols embodied in David's jewels reveal the truth about our identity and the true nature of reality. Behind these sacred symbols is the knowledge that enables us to take complete control over our lives. So that we can rid ourselves of chaos, fear and hatred which affect so many of us.
Sacred geometry – where science and ancient wisdom meet
David's jewels are designed from sacred geometry.
Sacred geometry
is a term which describes the geometrical laws which create everything in existence. This term has been used by
mathematicians, geometricians, spiritual seekers, anthropologists, and archaeologist

s
to encompass the religious, philosophical, and spiritual beliefs that have sprung up around geometry in all the major cultures during the course of human history.
The geometrical laws derived from the flower of life produce the blueprint of the One Consciousness that created life and existence.
The moment you connect spirit and geometry you get sacred geometry!
Authenticity sign
To ensure that you have purchased the original jewel, please check that it is engraved with this authentic symbol -

Each of our items is sold in a
decorative package
embossed with our original symbol, a string for the pendants and a
paper scroll
explaining the pendant's meaning and authenticity.

Ka gold Facebook page
David is very active on Facebook. You are welcome to add him as your friend and Like our Facebook page:
Contact Information:
US Phone:
1-888-215-6036
Phone:
972-3-5730855 on Sunday to Friday between: 9:00am - 17:00pm Israel time
Mailing address:
Flower of life jewels LTD P.O. box 853 Givataim 53108 Israel
Workshop address:
Please call before arrival
Email:
[email protected]
We usually
answer within 12 hours