Custom Engraved Rings
Inspire Yourself with a Ring Engraved With Your Words On It!
David Weitzman, the artist behind Ka Gold Jewelry invites you to find the words that deeply resonate with your inner being and make a ring from it. Wearing your own words (or favourite quote) can remind you of what is truly important for you in your life. Wearing such a ring will have positive effect on your mindset and in turn, on your whole life...
Meaningful Gift Idea to Show Your Love
Custom Engraved Ring is also a great idea for a gift to someone you cherish. Such a gift will show the person receiving it that you have deeply care and you made a special effort for him. This will strengthen your relationship and bonding.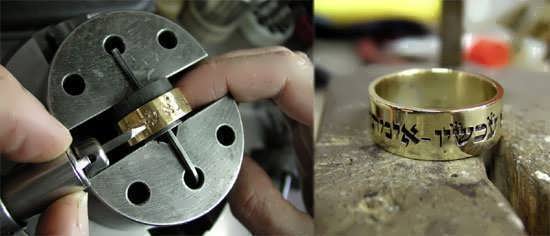 Hand Engraved
Each ring will be individually hand engraved by David's brother, master engraver
Jonathan Weitzman
in order to give it a genuine artistic touch in a world of computerized/machine made jewelry.