December 2011 Newsletter

Ouroboros Ring - Symbol of Renewal for the New Year and 15% Discount Coupon Reminder
Hello,
I have decided to welcome 2012 with one of my favourite symbols - the Ouroboros or the dragon that eats it's own tail. The Ouroborus is the ultimate symbol of renewal, creativity and endless change. The Ouroboros symbol has accompanied me for many years and represents for me the courage to accept life changing decisions. Over the years, I have noticed how many of us are afraid of change, and prefer too often, to remain in a situation that harms us. If you observe the ring up close, you can see the symbol appear from within the graphic motif of the ring.




My personal story regarding the ability to dive into the deep water and to accept change as a blessing is also a story related to being a jewelry artist. At the end of the 90's I was working in a completely different field. As a result of a few inexplicable events that happened to me, like the feeling of no longer wanting to continue with what I was doing at the time, I decided to terminate my previous business and turn to what I work in currently, spreading inspiring symbols that can bestow courage, hope, and inspiration to people all over the world. I made this decision in less than a day, and the next day the previous business ceased to exist.

Despite that many people raised an eyebrow and did not believe that this move would succeed, the idea started to take shape and turned into a source of inspiration for people all over the world. I remember vividly that throughout the beginning years which were not easy, I received encouragement and strength from completely unexpected sources.



Coupon Code -

KAGOLD2011

- Valid until December 24th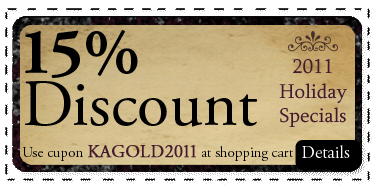 How to use the coupon code?
Browse and add item to shopping cart
When ready, go to cart and click

I have coupon

link
Insert coupon and click

apply coupon

Validate the discount was implemented and continue.


Yesterday I saw a quote from John Lennon on one of the postings on Facebook and it reminded of one such a time. It happened during the second Year of my business, I was at the end of a hard day and I was worried about the difficulties that had piled up in the beginning of the journey. This unease also followed me into my dreams at night when I fell asleep. Suddenly I found myself in something that looked like a hall with a lot of people. I didn't understand what I was doing there. It looked like some sort of party or event. I decided to walk around among the people, and suddenly I run into John Lennon. He asked me how I am, and what is happening with me these days? At that moment, two thoughts crossed my mind.
1) This feels completely realistic
2) He is actually a red head
I explained to him that I had some troubles lately. He listened, smiled, patted me on the shoulder and quoted me Paul's line from Hey Jude-"

The movement you need is on your shoulder

"
A song that Paul wrote for John's son Julian to encourage him at the time that his parents divorced and his father wasn't exactly functional in his support. What was strange is that years afterthe dream, I discovered in an interview with Paul Mcartney that when he played the song for John, He apologized for this line specifically and he said he would change it later. John stopped him and told him that he liked this line and he actually thought it was the best line in the song.




The next thing I remember is that I woke up with a really good feeling. This line stayed in my head for a long time and I knew for sure that I would succeed under all circumstances. By the way Paul wrote this line for Lennon's son who was 5 years old. This brings me to the next quote from Lennon on what his mother told him when he was 5 years old:
"

When I was 5 years old, my mother always told me that happiness was the key to life. When I went to school, they asked me what I wanted to be when I grew up. I wrote down 'happy'. They told me I didn't understand the assignment, and I told them they didn't understand life."...



P.S.
If you meet John Lennon in a dream, tell him thanks and that I really like the caricatures he drew.




Click Here to go to Ka Gold Website



And so, I wish everyone a New Year of courage, welcome changes and lots of love.