December 2015 Newsletter
Small Gift that Made Huge Difference and a Solution for Late Gift Buyers

Greetings,
The holidays and the end of the year is at our doorstep. In this newsletter we present a tool for late gift buyers who wish to give something and create thrilling anticipation to the real gift which will arrive few days later. Also in this newsletter a story about a small gift that made huge difference...



Coupon Code -

KAGOLD2015

- Valid until December 25th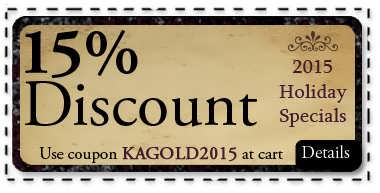 Visit Holiday Jewelry Page
How to use the coupon code?
Browse and add item to shopping cart
When ready, go to cart and click

I have coupon

link
Insert coupon and click

apply coupon

Validate the discount was implemented and continue.
---
Solution for Last Minute Gift Buyers
"Your Gift is on its Way" - Card
Due to pressure on postal services worldwide during the holiday season, delays can happen. Also some of you may still be wanting to place an order, yet are afraid that the gift will not arrive on time. For this reason, we have come up with a great idea. We have prepared a graphic holiday card that you can download and print, to give to your loved one on the eve of the holiday. In the event of a postal delay, the card will allow you to share your good wishes until the actual present arrives. We have left a few lines on the bottom of the postcard for you to include a personal message.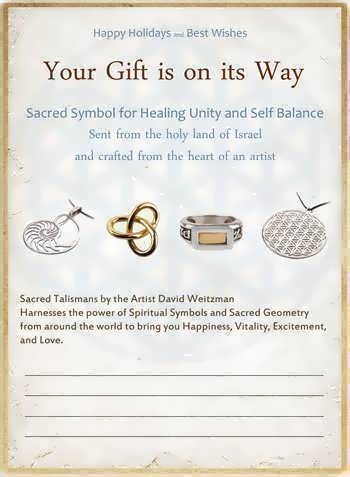 To download the image follow these instructions:
Click on the image link below to open the picture on a browser
Point the mouse on the image
Click on the right mouse button
Select "save image as"
Print the image and add personal message
---



Small Gift that Made Huge Difference


1998 was a magical year for me. I was learning Sacred Geometry and researching the field of meditation and breathing exercises. I also started to make cosmic jewelry and the first model I designed was the Merkaba. At that time I lived in an apartment in Tel Aviv with two roommates. The apartment was a gathering place and many friends used to come and visit us.



Merkaba Jewelry


One of the visitors was a really nice person who used to go around with his drawing pad. One time he showed me a set of interesting drawings, showing a child learning to fly. He told me that as a child he had a dream about an old man that taught him how to fly. The problem was that this person was also a drug addict...

One night I found him sleeping on the sofa in our living room, shaking, sweating and grinding his teeth. I understood that his life was filled with emptiness and he was looking for his way in life. I felt sorry for him and as an act of compassion, I gave him a present - the Merkaba pendant I had made. I didn't expect much, after all, his close friends always treated him as a "lost case", but I hoped that the symbol will guide and will open a new path for him.



What were you made for Pendant


Two days later, he came to visit, wearing white clothes and told me that he decided to quit using drugs ( he even stopped smoking cigarettes ). He started mediating and replaced his drug addiction with long session of meditation and breathing techniques . The change he underwent was incredible!!!

I remember that when I met him his speech was incoherent and he used to express himself in broken sentences. He had real problems communicating. After few months he changed totally, he became clear minded, spoke clearly and fluently, was healthy and really happy... His parents even came to meet me and thank me. They said that I saved him!

This story was one of the main reasons I continued to work on my jewelry and overcome the obstacles involved in developing my artwork. It is because of that small gift to him and the huge gift of knowing that my gift impact his life so much, that I carried on making the jewelry that has touched the hearts of so many people in the world...





Whenever I acknowledge my feeling of self-fulfillment, I remember the person I gave the gift to… and how much I got in return...


---
Select a Meaningful Gift for your Loved One's
---


Thank you for reading
Happy Holidays
With Love
David and Ka-Gold Team