December 2010 Newsletter
New Astrology Talisman and Last Minute Tool for Christmas

Greetings,
Many of you are now buying gifts for your loved ones. Due to pressure on postal services worldwide during the holiday season, delays can happen. Also some of you may still be wanting to place an order, yet are afraid that the gift will not arrive on time. For this reason, we have come up with a great idea. We have prepared a graphic holiday card that you can download and print, to give to your loved one on the eve of the holiday. In the event of a postal delay, the card will allow you to share your good wishes until the actual present arrives. We have left a few lines on the bottom of the postcard for you to include a personal message.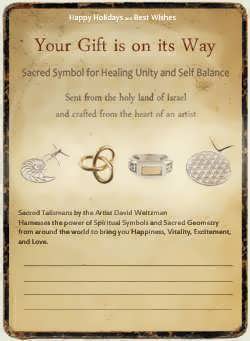 To download the image follow these instructions:

Click on the image link below to open the picture on a browser
Point the mouse on the image
Click on the right mouse button
Select "save image as"




The %15 Discount Coupon

(7696RE6K)

is still available
(until the 24th of December)
To use it, add items to the shopping cart and click on the I have coupon link inside the shopping cart page.


New Limited Edition Astrology Talisman - Jupiter Pendant
The talisman will be made on 18/12/2010 between 18:00-19:00. To reserve one please make the order before.


It is reassuring to know that the two 'beneficial' planets (as they are called by the ancients), which are considered life and growth supporting, are back in business, and we can anticipate a great relief, and a renewed sense of optimism and joy, after the hardships we may have experienced over the last couple of months. We want to celebrate the returning of Jupiter from its long retrograde into its own sign of Pisces, with a newly designed Talisman, This will be the last talisman that will be made for Jupiter in this quality and force, until it will reach either cancer (its exultation) in three to four years, or Sagittarius (its second sign) which it will reach in eight years.
With great love
Happy Holidays
David Weitzman and Ka Gold Jewelry team.