February 2011 Newsletter
Saturn Talisman and 14% discount for Valentine's Day


Greetings,
Valentines day is at our door step and it is a great opportunity to focus our attention on the purest, the strongest and the highest virtue of all -

Love!


In this newsletter, we cover the new Japanese Cranes pendant - a Japanese symbol of love, The Tarot lovers card pendant and another astrology talisman, this time for Saturn.

I get a lot of customer feedback and also many lovely pictures. I would like to share with you two wonderful pictures strongly related to Love. The first is a picture of 5 sisters hands joined together all wearing the "I love Therefore I am" ring:



The second is another moving picture from a wedding with the Mobius ring as wedding rings:



And if love is our subject then I think you may find this quote interesting:
"

What the world really needs is more love and less paper work

"


Pearl Bailey



Enjoy the cosmic joke
David Weitzman


---
14% Discount on Selected Love Creations
To celebrate Valentine's Day we have selected several pieces of Love Jewelry and have given a 14% discount on them. To find out more, go to

Valentines Day Love Jewelry




---
"Your Valentine gift is on it's way" - Card
We know that we are sending this newsletter a little bit late and we apologise for that. We have prepared a card that you can download and print and give it to your loved ones to let them know that there gift is on it's way (it is actually a great way to create anticipation). Here is the card: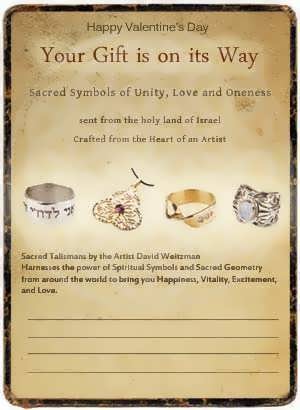 ---



"Gravity is not responsible for people falling in love.

"


Albert Einstein




New Designs
Saturn Talisman


The Saturn talisman is made, when Saturn is in Libra - the sign of its exaltation. The Saturn talisman is a very powerful talisman, and many ancient authorities relate to it as such.
Due to Saturn's preservative power and stamina, It is said that Saturn Talisman can cure many illness, especially those that have to do with loss of order in the body.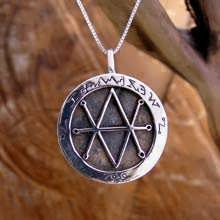 Powerful protection and healing talisman. Made at time when Saturn is at his sign of exaltation at January 25th between 4:27 to 5:33 in the morning.





Japanese Cranes pendant


The symbol in the pendant is a known ancient Japanese Family Crest.
The crane pendant is a perfect symbol of love, spirituality and happiness.




Tarot Lovers Card Pendant


The Lovers card reflects the marriage of the emperor and the empress. Deep harmony and archetypal unity between the male and the female. The lovers card is a reflection of the self awareness process of learning the male and female elements inside of us.





Tarot Star Card Pendant


The card of hope and healing, clear vision, spiritual insight and inspiration
The ability to believe and stay optimistic comes from life experience. It is not just simple hope but clear spiritual seeing and trust in the future to come.




---



OR




With Great Love
Happy 2011 Valentine's day
David Weitzman and Ka Gold Jewelry Team.