February 2012 Newsletter
Celebration of Love with 14% Discount on Love Jewelry




Greetings,


In this newsletter I'd like to share with you some of the basic themes I incorporate in my designs which revolve around the concept of unity and love. In my perception creation itself is an experience and it's divine purpose goal or need is to experience love.

I have selected few designs to express my understanding and they are featured below.

---
14% Discount on Selected Love Creations
To celebrate Valentine's Day we have selected several pieces of Love Jewelry and have given a 14% discount on them. To find out more, go to
Valentines Day Love Jewelry
---
"Your Gift is on it's Way" - Card
For those of you who wish to order but afraid that the order will not get to you on time we have prepared a card that you can download and print and give it to your loved ones to let them know that there gift is on it's way (it is actually a great way to create anticipation). Here is the card: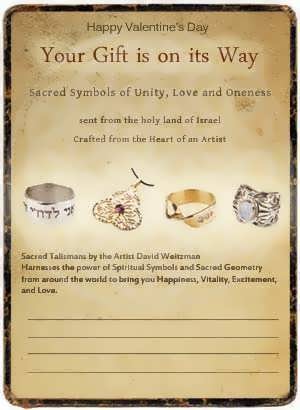 ---

The Ahava Ring and Pendant
The meaning of creation is placed inside the word love (AHAVA). The word consists of the Hebrew letters Alef (1) and Beit (2) meaning that one splits into two. This process is required, as one cannot experience oneself without a point of reference. At the moment of fertilization, the cell divides itself into two which bring us to three – creator, creature and creation. It's fascinating to see how the value of the word Ahava is actually 13 while the first letter of the Hebrew alphabet "Alef" which symbolizes "One" has the total value of 111.

This repetetive theme of The One that symbolizes unity and the Three which symbolizes
creation or consciousness dwells in many of my designs.




Diligo Ergo Sum Ring
The "I Love therefore I am" ring (or Diligo Ergo Sum Ring) is a paraphrase of the famous expression by the French philosopher, Descartes – "I think therefore I am" when he tried to prove, by using logic, the reality of his existence.
I decided to change the sentence engraved on this ring to something that expresses the very essence of life, something we cannot grasp with thoughts but only with our hearts - "I Love therefore I am".

Diligo Ergo Sum Rings

(in two different widths):




Key of Love


On the key of love engraved in Hebrew: "You must love the Lord your God with all your heart and with all your soul and with all your might." A powerful reminder that is hidden in the bible .
The first commandment of the creator is to love itself/himself/herself




The Mobius Ring


Some of you may ask what is the connection between Mobius ring and love?
The Mobius ring is the perfect symbol of two joined as one. Normal rings have two facets (internal and external) but not this ring... The Mobius ring has only one facet! It is the ultimate symbol of unity and to experience unconditional universal love one must cultivate the idea of unity.



---
With Great Love
Happy 2012 Valentine's day
David Weitzman and Ka Gold Jewelry Team.