February 2014 Newsletter
Solution for Valentine's Day Last Minute Gift Buyers

Greetings,
Valentine's day is just around the corner on the 14th of February.
We offer this card to allow you to share your good wishes until the actual present arrives. You can print the postcard or send it by email.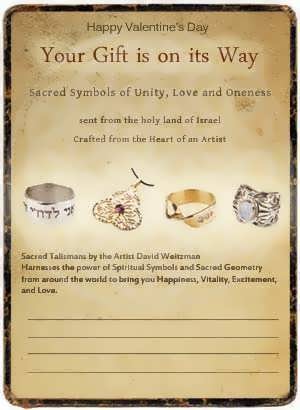 To download the image follow these instructions:
* Click on the image link below to open the picture on a browser
* Point the mouse on the image
* Click on the right mouse button
* Select "save image as"












---
Beautiful and Inspiring Love and Unity Jewelry

A powerful symbol of Love and unity designed from the Infinity symbol, Yin and Yang, The Vesica Pisces and Synergy symbol.
Cosmic pattern of endless love and wisdom. The pattern symbolizes all the knowledge, love and wholeness that exist in the universe and allows us to step out of the perception of separation that brings only destruction and chaos, and to experience unity.
The Yin is the black part with the white dot which is represented by the part with the crane with the empty circle. Yin represents softness, slowness, passive power, dispersing and cold. The Yin is a female power that is connected to water, earth, to the moon and night. In the whole pendant, which is made up of two different metals, it appears as the part made of silver.

The Yang is the white part with the black dot that is represented by the crane with the full circle. Yang represents hardness, solidity, speed, heat, concentration, active power and it is connected to fire, to water, to the sun and the day. In the whole pendant that is made up of two different metals, it appears as the part made of gold.
---
14% Discount for Valentines Day





Thank you for reading
With Love
David and Ka-Gold Team