March 2013 Newsletter
Symbolic Jewelry Design Contest - Artistic, Inspiring and Fun!

Greetings,
We are happy to announced the return of the successful jewelry design contest which originally ran from mid-2006 to mid-2008. This year, David will personally choose a winner every 3 months. His decision will be based partly on the number of "likes" and "shares" that each entry receives.

Most of non-winning entries will still be qualified to move on to the next selection period. The current contest has a selection date of June 1, 2013 and the winner will be honored by getting his/her design made in 14k gold or 5 items in Sterling silver 925.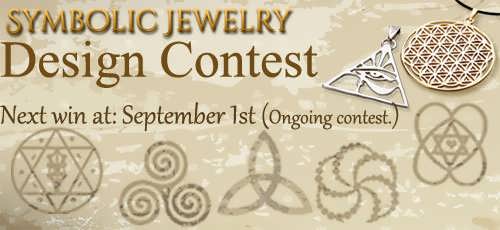 Stay updated with New Submissions and Winners,
Subscribe to the Contest Facebook Page:

---
Here are some of the Winning Designs from previous contests:
Horeb Unification Pendant


"I designed this as my Egyptian trinity, incorporating the left eye for mind, the right eye for body, and the ankh for spirit in the third eye position. I included a representation of a Died column and three holy conical breads of white powdered gold."
Designed by - Milton Thompson


---

Odin's Knot Pendant


Odin's knot pendant is the symbol of the god Odin which appears in the Nordic mythology. The pendant is composed of three triangles joined together. Odin's knot is based upon a well known geometric symbol called Borromean rings – structure related to geometrical mathematical equations that encompass the whole creation.

The pendant is based upon a design made by a designer named Kai.


---
Sri Yantra Pendant

The structure of the Sri Yantra pendant is one that provides abundance, beauty, and balance between male and female and between spiritual and material.

Yantra is a mystical hindu concept that describes a structure or diagram used to balance or focus the consciousness in order to achieve spiritual comprehension. Wearing the Yantra as a pendant or observing a picture of it is intended to endow one with mystical or spiritual abilities.


---
Norse Amulet Pendant
This amulet was made for the purpose of finding your own path of freedom and to focus on your own inner fire throughout your life's journey.
This amulet's design is inspired by Viking culture. The Vikings pioneered trade, exploration and colonization of new lands for over 300 years before any other european power.

Designed by - Florence MAQUET
---
Tombola Pendant
| | | |
| --- | --- | --- |
| | | The Tombola pendant was designed by Javier Hernandez. Javier descrbied the pendant in the following words: "Eternal motion of the physical and spiritual realms. The inverted axis on each circle represents that life's eternal motion is never random. Nothing happens by accident. Life's events are filled with purpose. There lies the meaning of life." |
---
Phi pendant
Phi pendant contains one of the methods to sketch the Golden Mean of Phi (1.618….). It also contains (on top) the Greek letter Phi, representing the divine proportion.

Plato went so far as to call the phi ratio the "

key to the physics of the cosmos

".

The Phi pendant was designed by Joe Zastrow
---




15% Discount on Previous contest winners





Thank you for reading
With Love
David and Ka-Gold Team