Newsletter number 1
Issued at 23/1/2006
Hello,
Welcome to David Weitzman's first newsletter.
Table of content:
1. New models
2. Story from life
3. At work
4. 10% discount coupon
New Models:
Priestly blessing
The priestly blessing is made according to the known blessing called priestly blessing. The translation of the blessing is:
"
The Lord blesses you and protects you.
The Lord makes His face to shine upon thee and be gracious to thee.
The Lord lifts up His countenance upon you and grants you peace
."
Genesa crystal with a crystal inside
This is an extended model of the Genesa crystal shape that inside includes a crystal or a stone. The idea of the Genesa Crystal was developed in the 1950's by Dr. Derald Langham, an agricultural geneticist. He found that the crystal reflects the cellular pattern of an embryonic living organism:
"Genesa is the coded matrix of your own life force and is directly related to the living energy moving in spirals, in all forms of growth, development, and change".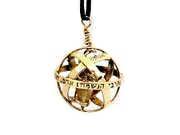 Tibetan knot ring
The Tibetan knot (Srivatsa or the endless knot) is one of the eight symbols of Tibetan Buddhism. The Tibetan knot can stand for karmic consequences: pull here, something happens over there.
Mobius ring with diamonds
This model is a version of the Mobius ring with three diamonds, which symbolizes the holy trinity. This model is great as a wedding ring because the Mobius symbolizes two that are one (it has only one facet).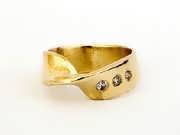 Story from life:
This story is about a guy who called me, sounding really sad. He told me that he bought my small Merkaba pendant at a shop and that the pendant had fallen down and got lost on the same day. He said he felt for a long time that he doesn't have any luck and he hoped that the pendant would change it. I also learned that the seller at the shop from which he had bought it had overcharged him. I invited him to my workshop.
Two hours later he went up the stairs; his leg was covered in a cast. I took out three pendants and wanted to give him them as a present but he agreed to get only the small Merkaba as a present and paid for the other two. The second pendant he bought was the Gordian knot (Torus knot). Three months later, the same guy called me all excited and said his luck changed on the same day. He said he decided to give his mate the second pendant. After she wore the pendant, she sat for an hour without talking. Later this evening she separated from him. After she went, his bad luck was gone, too, and he was very happy…
At Work:
• I'm working on two new models of the Star of David. I'm also learning the technique of mokume and hope to make some special creation with it.
• We are extending our website to support 4 more languages: French, German, Japanese, Spanish.
10% discount coupon:
Relevant only to the newsletter.
I hope you enjoyed my newsletter.
Blessings,
David Weitzman
http://www.ka-gold-jewelry.com
Click here to register to David's Newsletter!