Chaldean Astrology
~~~~~~~~~~~~~~~~~~~~~~~~~~~~~~~~~~~~~~~~~~~~~~~~

The Chaldean order, is essentially a hierarchy of powers that are represented by heavenly bodies (the stars), this order of powers is expressed on the axis of time as orbits of the seven discovered planets,

Saturn

,

Jupiter

,

Mars

,

The Sun

,

Venus

,

Mercury

and the

Moon

. Each of these controls a stage in the linear process of time. From the furthest and slowest- Saturn, till the nearest and fastest, the moon.

According to the tradition of alchemy, the seven stars parallel and are reflected purely in seven metals. These metals are raw material and stages in the creation of gold/ the philosopher's stone. The metals are actually material expressions that reflect essential principles of creation and of the spirit. The metals evolve alchemistically towards, gold- in the same way, the human being evolves towards spirit.
According to the Chaldean order, the metals and stars are as follow:


Saturn

- lead


Jupiter

- tin


Mars

- Iron


The Sun

- Gold


Venus

- Copper


Mercury

- Mercury


The moon

- silver



The seven metals talisman from Chaldean astrology


The Chaldean order pendant contains the symbols of the 7 stars arranged in the Chaldean order in the inner circle and the signs of the wheel of the zodiac in the outer circle. The middle part of the pendant contains seven metals, iron, lead, pure gold, silver, copper, and brass (replaces the metal mercury). The power of the pendant is in the combination of the seven metals, in which each are connected and strengthen different qualities of the person in accordance with the star to which that particular metal is connected.
The Chaldean order connects these qualities according to a flow chart, in such a way that each one will be its right place in relation to the other, and in this way it will express its power to its maximum while maintaining harmony.

The choice of the time to make the amulet is important, and it is made according to the alignment of the stars. We make the pendant when the alignment of the stars is ideal, affording optimal conditions for infusing the pendant with the power of action. Therefore, the uniqueness of the amulet lies in the fact that one can make it only at specific times in accordance to the condition of the sky.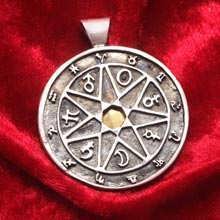 The pendant is a very strong protection talisman that has in its power the ability to bring success and healing to its bearer, along with supporting his personal development

. The beauty of the amulet is that it suits every person and situation, because it contains all the latent qualities and each person uses exactly the ones he needs at a specific time.

The choice of the right time to make the amulet is made by astrologer,

Michael Ofek

, and he is the one who advises when to create the amulet.