Holidays 2011 Newsletter

15% Holidays Discount Coupon and Some Lovely Customers Testimonials
Hello,
In this newsletter we open holidays season at Ka Gold and offer you 15% discount coupon. You can find details on how to use the coupon below. In the second part of the newsletter I like to share with you, few wonderful testimonials and pictures of happy customers with the jewelry. The whole collection of testimonials can be found in our testimonials page. It is a very special and exciting page which fills my heart with great joy... thank you!


---
Coupon Code -

KAGOLD2011

- Valid until December 24th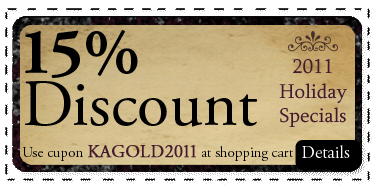 How to use the coupon code?
Browse and add item to shopping cart
When ready, go to cart and click

I have coupon

link
Insert coupon and click

apply coupon

Validate the discount was implemented and continue.
"

I have Coupon

" Link Location at shopping cart page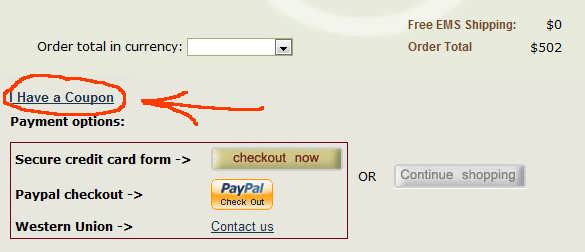 ---
Csutomers Testimonials
"David!
Wow is this late! I am so sorry. So much shifting is / has been / going on I can barely keep up. This stone and setting have me absolute moving fast fwd. And haven't stopped, if I can continue to be in the divine flow of things I will be just fine, and so far I'm hanging in there with that. My business is growing crazy fast, just know the money end will also catch up to it too, and my acting career is taking an amazing wonderful turn. So much is happening.

THANK YOU SO MUCH FOR MY BEAUTIFUL NECKLACE! I LOVE IT!

You two are wonderful, gifted and talented and carry such a Light vibration … the work speaks for itself and supercharges miracles all around!

Thank you and bless you for thinking of me with this incredible gift!
Love and Thanksgiving!
Shalom,"


Deidre



Refers to products:
» Genesa crystal silver with crystal
---
---


"Thank you, rings are beautiful, we like them very much. We received them on Tuesday. Thank you for the fast shipping!"


Maciej



Refers to products:
» Mobius ring silver





---


"I just received the Chaldean Order ring as a gift for my birthday.

I LOVE IT. It means the world to me, and it is so beautifully hand-crafted! I could not be happier. I especially enjoyed reading about it on the script you included with the ring.

You do amazing work. I'm very proud to show it off. Thank you so much."


Teri Smith (aka Lilith)




Refers to products:
» 7 metals astrology ring


---
"Dear David and Yaron.
I just returned from China.
I have attached a couple of photos of me wearing my ring.

Geometry of flower of life what has meaning in my life since long time ago.
I would like to pursuit of meaning truth in my life.

Ring sparkling on my finger every day.
This ring came to me through the many difficulties, so I feel like I would overcome every difficulty with it.
I feel great power from the ring and this will be partner whole my life.

Thank you for everything!!
Many blessing to you!

Can you see a dragon in the back? (Ring photo taken in China.)"


Aya from Japan



Refers to products:
» Flower of Life ring gold
» Egg of life silver




---
---
"Dear David

I want you to know that I've received the Talismans one is mine and he other one is going to be a birthday present for my son. They are beautiful and powerful with strong and subtle energy that HEALS . When I had to go to the post office to get my package I was really excited and I couldn't wait to see them.


I had a knee injury at that time that I had suffered working out at the gym 3 days before and that morning I was in pain and limping . I got the package and went home . When I opened the boxes my eyes got really big and I couldn't stop staring at them , they are BEAUTIFUL well crafted and awesome jewelry. I got the Talisman in my hand and while I was holding it I immediately felt my hand getting a little warm I then put it around my neck and within an hour I noticed that my knee was not hurting as much anymore as it did in the morning so I decided to go to the grocery store to get some food . I was at the store like 20 minutes or so and the pain in my knee WAS COMPLETELY GONE . I got home and later on I went for a long walk and NO MORE PAIN IN MY KNEE . This Talisman has healed my knee injury I still can't believe it !!!!!!! I have also noticed that I get more attention from people and they are so nice to me too. I don't want to separate from my Talisman and I feel its part of me now :)
THANK YOU DAVID :)
MANY BLESSINGS !!!!"


Maria



Refers to products:
» 7 Metals Chaldean Astrology Talisman

---
"Hello Yaron and David,

Here is a photo of my daughter with her lovely necklace that was made for her by David. She loves it and again we both thank you for the beautiful necklace and hope to purchase more in the future.
We will be checking your site

Sincerely"


Belinda



Refers to products:
» Odin's Knot silver

---
Give your Loved One's a Meaningful Gift
A Gift from the Heart to be Cherished Forever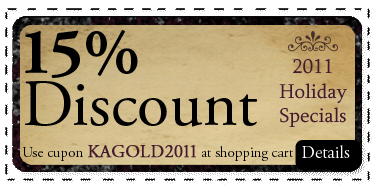 ---


Thank you
Happy Holidays
With Love
David Weitzman and the Ka gold jewelry team.