New Alchemical Cosmic Tree Pendant
An original design infused with Alchemy Symbolism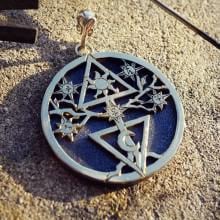 Price: $219.0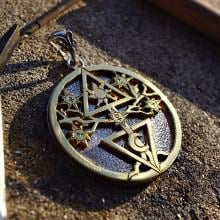 Price: $1231.0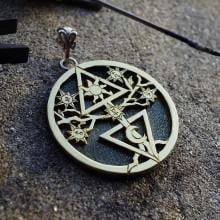 Price: $2935.0
The two reversed triangles are a symbol of the "as above, so Below" - a concept that can be found in the alchemical ancient text of the Emerald Tablet. The idea that everything on earth is a projection of the heavenly forces that govern the universe. The same rotating particles of the atom, are subjected to the same physical laws that govern the galaxies.
The triangle is also an ancient symbol of creation and existence among others. The symbols of the Sun and the Moon are the symbols of the feminine and masculine forces of creation while the sun is also the ancient symbol of the eternal, the gold. The five symbols on each one of the planets are also the symbols of various metals that were the key to transmutation into gold. The numbers three and seven that can be found in the design (the triangles and the planets) are also repetitive key numbers in numerous spiritual and philosophical teachings. The tree is of course a symbol of life and creation.
Related Designs
---
Emerald Tablet Mercury
Emerald Tablet of Hermes holds the secret of the Prima Materia with Ouroborus and Monad Symbols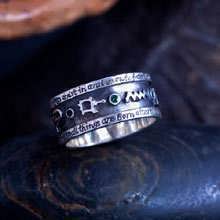 Price: $378.0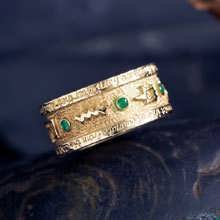 Price: $1596.0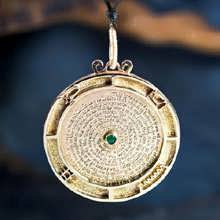 Price: $2771.0
---
Alchemical Wedding
The Talisman is made in an astrological time that enhances the "cooperation" of the Sun and Moon (trine configuration while waxing). The talisman offers the opportunity to balance the opposites of our nature and 'alchemize' them together. This causes the emergence of our most pure, essential self, and acts to transform the raw and chaotic material - attached self (Prima Materia) into gold (spirit) by way of purification and unification of our basic elements.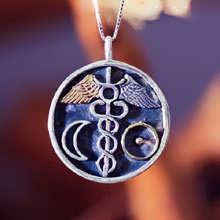 Price: $419.0
---
Mercury Conjunct Bungula Talisman
Gives powerful mental abilities, deep thought and perception, memory and the ability to grasp and understand complex philosophical ideas.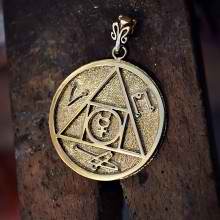 Price: $2944.0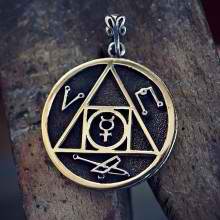 Price: $1030.0