Our Sterling Silver Jewelry
All of our pieces are made from traditional 925 silver commonly known as "Sterling Silver". It is an alloy that is composed of 92.5% pure silver (hence the name 925 silver) and 7.5% copper or other metals. The main reason for using the 925 silver alloys is to strengthen the silver which is relatively soft.
Unlike pure silver, the Sterling silver will oxidize because of the small content of the other metals, particularly the copper. That is what causes the dark patina that can be seen on vintage silver jewelry. We use this feature and oxidize many pieces on purpose in order to emphasize the unique engravings on our jewelry.
A sterling silver ring that was partially dipped in an oxidizing solution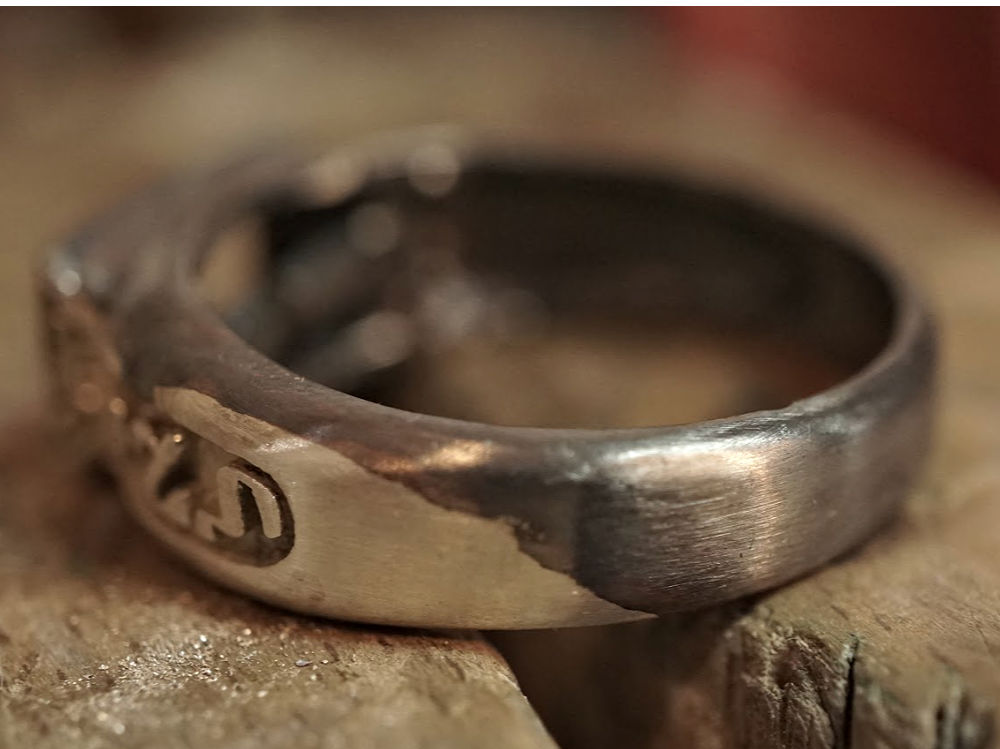 Unlike many manufacturers, we don't coat our pieces in Rhodium or pure silver, since the aging or oxidizing process is part of the design. However, exposing our silver jewelry to acidic materials might create an unwanted effect, and might tarnish the piece of jewelry. Acidic sweat, exposing it to cleaning materials, Chlorine, or even cosmetics might cause this unwanted effect, and sometimes the only solution is to refinish it.
All of our pieces (both gold and silver) are being examined on a weekly basis by the Standards Institution of Israel as a part of the Vienna Treaty, which means that we cannot export any alloy that is not 100% as declared.
Once in a while, we get inquiries and complaints from customers who took a ring or a pendant to a jewelry store or a jewelry maker and were told that it's not silver. The simple truth is that a jewelry store cannot examine the percentage of gold or silver in a piece of jewelry. That can only be done with lab equipment, and though there are some test sets available on the market they are a far cry from being accurate. 
How to clean the jewelry?
In case of a significant tarnish, new polishing is required. If it is just a bit tarnished you can use
dedicated sterling silver jewelry cloth
. Please note to use only a product that is dedicated to that. Any use with other materials may cause the destruction of the jewelry. 
Example of tarnished Genesa Crystal