Moonstone Jewelry
The
Moonstone's
name is derived from a visual effect or sheen, caused by light reflecting internally in the Moonstone from layer inclusions of different feldspars.
The Romans thought that the Moonstone was formed of moonlight and began wearing it in jewelry around 100 A.D. This gemstone has always been considered sacred in India, and Europeans of the Middle Ages thought that by looking into a Moonstone, one would fall into a deep sleep and see the future. The Moonstone was very popular in the early 20th century and was used extensively in art nouveau jewelry. Legend suggests that Moonstone awakens tender passions if placed beneath the tongues of lovers during a full moon.
The Moonstone symbolizes our being in its entirety. With its soft shimmer, it strengthens our emotional and subconscious beings
. The associations concerned with this make it a "
lovers' stone
", evoking tender feelings and safeguarding the
true joys of love
. It is also said that wearing a Moonstone strengthens our intuition and our capacity of understanding.
Great for divination and psychism, many people keep a Moonstone with their Tarot cards for
increased psychic ability
. The Moonstone is helpful in dieting and maintaining a youthful appearance. The moonstone is love drawing and helpful for reconciliation. The Moonstone is a gently protective stone, and is extremely useful in protection while traveling by water.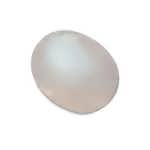 Available Jewelry with Moonstone
Images of Products with Moonstone