Opal Jewelry
Opal is October' birthstones
.
Precious Opal has been considered a semiprecious gemstone since Roman times, in which it was second in value only to the Emerald. The Romans considered this gemstone to be one of good fortune, revering it as a powerful aid to prophecy.
Numerous legends and tales surround this colorful gemstone. The Opal can be traced back in its origins to a time long before our memory, to the ancient dream time of the Australian aborigines. It is reported in their legends that the Creator came down to earth on a rainbow, in order to bring the message of peace to all humans. The legend tells that at the very spot where His foot touched the ground, the stones came alive and began sparkling in all of the rainbow' colors. That was the birth of the Opals.
Today, this gemstone is believed to aid in
healing of eye diseases
, and should a person fall ill, it is believed to lose all of its color to the wearer. It is also said to soothe the eyes and nerves, and may enhance creativity.
All of Natures' splendor seems to be reflected in the manifold opulence of fine Opals: fire and lightning, all colors of the rainbow and the soft shine of faraway oceans.
Australia is the Opal's classic country of origin. As much as 95% of all fine opals come from its dry and remote outback deserts.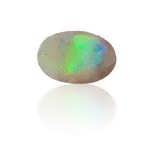 Available Jewelry with Opal
The Designer - David Weitzman
David Weitzman is the force behind Ka Gold Jewelry. David has dedicated himself for many years to the search for sacred knowledge. He has vast knowledge in the fields of Kabbalah, sacred geometry, Egyptian wisdom, Jewish tradition, Tibetan Buddhism and other sacred concepts.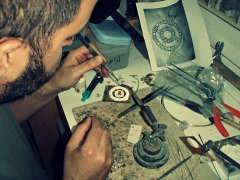 The Light Pendant Silver
Price: $125